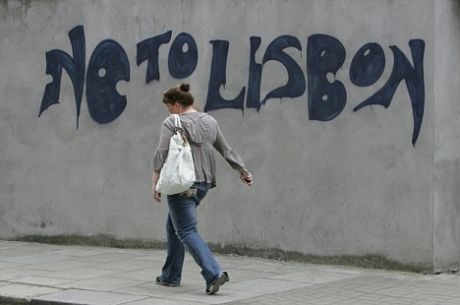 [I received this today from the CPI. The statement is reproduced in full.]
The Communist Party of Ireland expresses it admiration for the tens of thousands of working men and women, small and medium farmers and the people of our fishing communities, who stood firm and refused to be bullied and blackmailed, who stood up for democracy, stood up for our independence and the sovereignty of our nation. They are true patriots. There is now a very clear and growing constituency of people whose views and values are not represented in either the political institutions of this state or at an EU level.
The forces of the No campaign took on an establishment that is both morally and politically bankrupt but that is a willing pawn in the hands of the EU Commission and the big powers of Europe.
While we did not win, the forces of the No campaign put up a tremendous fight, against all the odds and against hostile mass media, securing almost 40% of the popular vote with very limited resources in comparison with what the Yes side had access to and spent in their efforts to buy the votes of the people.
It is clear that, despite the millions spent by the Yes side—most of which came from the EU Commission through its many front organisations—a substantial minority of our people refused to be bribed and to sell their independence. The task now is to maintain unity and continue to build a people's coalition to win back decision-making for democratic Irish institutions.
Eugene McCartan. General Secretary, Communist Party of Ireland.
2 Responses to "LISBON TREATY REFERENDUM: A STATEMENT BY THE COMMUNIST PARTY OF IRELAND"
[…] from left organisations to the Treaty result, inspired by Conor McCabe sticking statements up in full on Dublin […]

[…] Movement (pdf), the Socialist Party (video of Joe talking on the subject), the Workers Party, the Communist Party, the People Before Profit Alliance, Sinn Féin (Próvach), Sinn Féin Eile, the SWP, the National […]
Leave a Reply